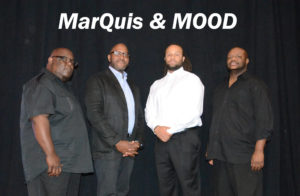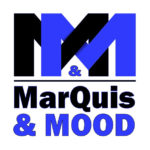 The current members of MarQuis Hunt's band, MOOD, are:
Drums – Marlon Davis – Marlon (aka Big Cat) provides a solid foundation for MOOD.  He can drum with the best of them and his decades of experience definitely shows when he performs.  Big Cat plays everything from rock to jazz to R&B and everything in between.  Big Cat is also a very accomplished bass guitarist.
Bass Guitar – Corey Harris – Corey was born into music.  He began keeping the beats on drums at the age of 5 and has been playing bass since he was 15.  Corey has traveled extensively sharing his love of music.  He is the owner of C4 Productions and has appeared with many well-known secular and gospel artists, such as Dorinda Clark-Cole, Karen Clark-Sheard, Kim Burrell, Eric Roberson, Joe, Algebra Blessett, Chrisette Michele, and Dave Hollister.  Corey is sought after by other musicians for his production expertise, as well as for his performance capabilities.
Keyboards – Tarick Horton – Arkansas native Tarick (aka Rick) Horton is a multi-talented writer, producer and recording artist. Classically trained as a child, he's been performing professionally since the age of 13.  Rick's versatility on keys and expertise in all genres of music add to MOOD's ability to please such a wide variety of audiences.  Rick also serves as the Musical Director for MOOD.
Bass Guitar – D'Shawn Lamkin – D'Shawn is an up-and-coming talented young artist. His style is solid, with a funky fusion feel. D'Shawn adds a fresh energy and cool vibe to MOOD. D'Shawn is also an accomplished percussionist.
Drums – Phil Marks – Phil studied at the famed Berklee College of Music. With three decades of experience, Phil's skills have been honed into true artistry.
From time to time, other talented musicians and vocalists join MOOD, also. Each musician adds another layer that only intensifies and adds to the music, just like a beautiful frame enhances a work of art.
MarQuis & MOOD are available for weddings, anniversary parties, birthday celebrations, charity events, intimate performances or large venue concerts. MarQuis & MOOD will customize their performance to suit your event. They can create any mood or ambience and are sure to please and entertain your guests. Always a crowd favorite, they never fail to turn any event into a special, memorable occasion.
To book MarQuis & MOOD, call or text us today at 501-650-3019, or send an email to MarQuis Hunt.