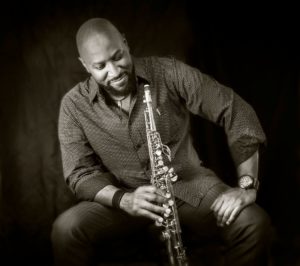 Background & Awards
L A Rose Entertainment is proud to represent MarQuis Hunt.  MarQuis (pronounced MAR-kwis) is a Stellar Award nominated recording artist most noted for his expertise playing soprano saxophone, but he is equally gifted on alto and tenor sax.  He has performed, written and produced for Grammy and Dove Award-nominated albums.  With an impressive résumé, MarQuis has shared stages and performed on albums with Kirk Franklin, Yolanda Adams, Backstreet Boys, Fred Hammond, Ben Tankard and many notable others.
MarQuis was recognized and nominated as Best Jazz Artist by the Central Arkansas Music Awards.  He is recommended by the Arkansas Arts Council and is a member of the prestigious Arts on Tour program that provides grants to non-profit organizations for the promotion of music excellence and artistry.  (If you have a nonprofit organization, this program may reimburse you up to 40% of his performance fees.)
Style
His brand of jazz ranges from spirited and high energy to soulful, sultry and smooth.  MarQuis named his band MOOD because that is what his music does… it creates a mood that allows the listener to be transported to a place without cares or stress.  MarQuis is a seasoned professional with three decades of experience and his dedication to his craft is evident in his performances.  MarQuis is a true artist in every sense of the word.
Additional Talents
MarQuis exhibited talent from an early age and was an all-state musician in high school.  MarQuis isn't just a talented headlining saxophonist – he writes, produces and sings, as well.  He is also an author, poet, speaker and host of a radio show.  MarQuis' goal is always to inspire the listener and to encourage them to open their hearts and minds.  MarQuis considers it an honor if, in some small way, his music and words can touch his audience.
To Quote MarQuis
MarQuis believes in playing jazz, no matter who wrote it, his way.  To summarize his feelings on this subject, "If I play Parker, Cannonball, Theloneous, or Coltrane just like you remembered, would it be jazz or like jazz? What they gave was certainly jazz when they gave it-beyond genius when they played it…If I give you what they gave us, I'm obliged to give you something only I can deliver. And it will be lovely, and It will be jazz because I tell the story my way…"
Location
MarQuis is currently based in Little Rock, Arkansas and can frequently be heard in the central Arkansas area, as well as surrounding areas such as Hot Springs, Fayetteville, or Memphis.  MarQuis is also available nationally and abroad.  The world is his stage.
Management & Booking
MarQuis is available for booking as a solo artist or with his band, MOOD.  Call or text us today at 501-650-3019 for booking information, or send an email to MarQuis Hunt.
MarQuis' Band MOOD
For information on the members of MarQuis' band, MOOD, visit the MOOD page.