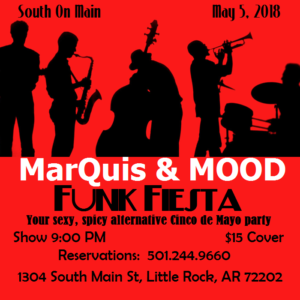 Saturday, May 5, 2018, 9:00 PM – 11:00 PM. South on Main, 1304 South Main St., Little Rock, AR 72202.
You don't want to miss this amazing Little Rock Cinco de Mayo celebration! This is going to be one of the biggest parties in town.
The margaritas will be cool and the music will be hot! This is THE Cinco de Mayo party you want to attend in Little Rock, AR. MarQuis & MOOD, known for their spirited jazz, funk and R&B will be playing an all-funk non-stop set for this blowout of a party. MarQuis & MOOD's performances always sell out, so call 501-244-9660 today to reserve a table. If the tables are gone, don't worry, because you'll be dancing all night, anyway.
MarQuis & MOOD are going to rock the house with this funk fiesta. There will also be some surprise musical guests for this party. This is a three-way slam:
It's Cinco de Mayo!
It's a non-stop party with upbeat funky music!!
It's MarQuis' 50th birthday !!!
This event will definitely sell out, just like the last performance at South on Main. Don't be one of the disappointed party goers that couldn't get a seat and had to stand all evening.
For questions, email L A Rose or call 858-480-7673.